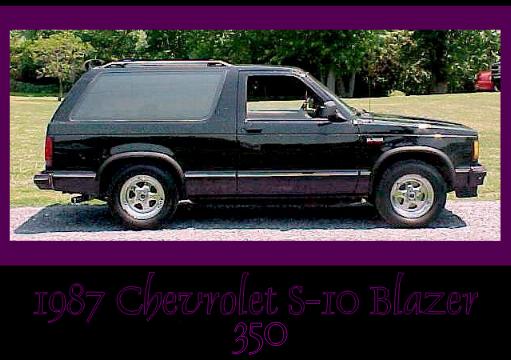 This website is made to show off my very first car.
---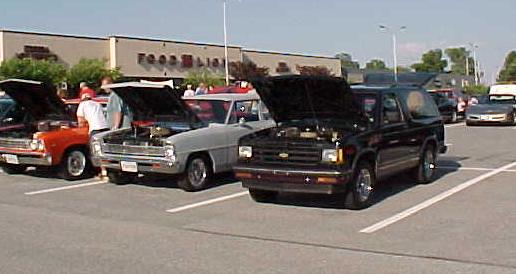 She's a 1987 Chevrolet S10 Blazer with a nice 350 Chevrolet small block motor tucked under the hood. The truck was given to me by my father as a graduation gift from high school. So far I've gone to one year's worth of car shows with her. I've won a couple 'Top Rides' trophies, and last year at Show-n-Shine Promotions' carshow Summer Slam I took 1st place in my class, mini utility street.
---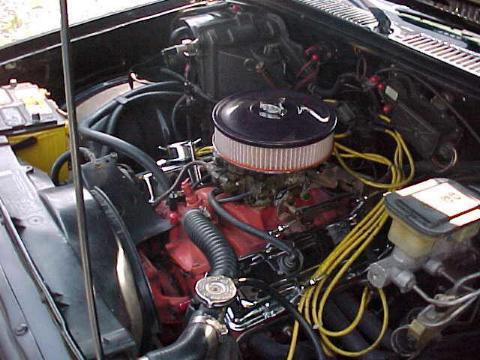 The motor that is in the truck currently I honestly do not know much about. When I got the truck the motor was already in it. It, of corse, is a 350 cubic inch Chevrolet engine. It has a 'noisy' Pete Jackson gear drive. She has stock iron heads with a 74cc combustion chamber. Hedman headers replaced those old stock manifolds. Stock intake manifold and a Quadrajet carb. She is charged by a GM HEI distributor.
---
The body doesn't have too many modifications done to it. The paint job is black above the lower body trim and a dark purple below and on the bumpers. In the clear coat there is multiflake. To put it in short, when light hits the body thousands and thousands of red, yellow, green, and blue sparkles light up. I've also recent slapped on a pair of Euro Style tail lights.
---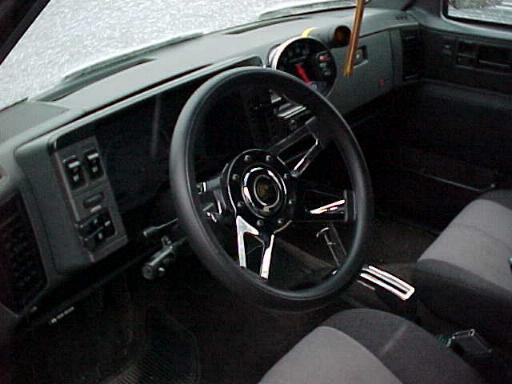 The interior is semi done up. I've put in most of the work on that end. It has a Grant chrome steering wheel. To keep an eye on the motor she has a Summit gauge pannel below the dash with an oil pressure gauge and water temperature gauge.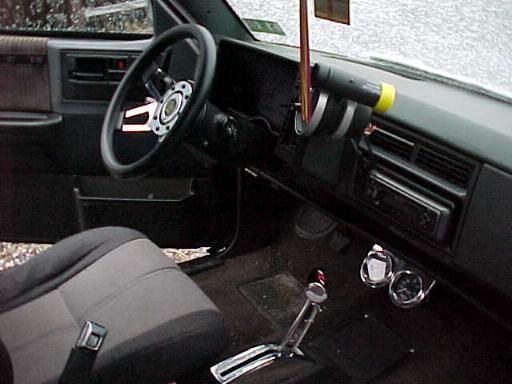 Also on the side of the instrument pannel I've installed an Autometer 5'' Sport Comp tachometer with an external shift light. On the floor there is a B&M Z-gate ratchet shifter. I've placed two purple accent lights on each side of the plastic pannel in the rear up top. Behind the rear seat I have a custom speaker box that holds two Pacific 12'' subwoofers. There is no amp running to them. In the dash there is a Pioneer stereo.
---
Other Modifications:

2.25'' dual exhaust with dual 40 series Flow Master mufflers (no cats.)

Belltech 2'' lowered coil springs in the front

Belltech 2'' lowered spindles in the front

Belltech 3'' lowering blocks in the rear

All A/C components have been removed to free up hp lost due to friction

GM Turbo Hydramatic 350 Transmission

B&M transmission cooler
---
Future Plans:

I am currently rebuilding another 350 to replace the one that is in the truck at this time. I have a set of GM cast heads with a slant 64cc comustion chamber. The block is bored 30 over. A set of Summit 9.35:1 hypereutectic pistons. Steel crank. I am not sure of what cam size I am going to go with but I am going to go with a Crane Cam roller and roller lifters. Also going with Crane Cams 1.6 roller rocker arms. Sticking with a 'noisy' Pete Jackson gear drive to keep the timing accurate and keep that sound. I've already got my hands on an Elderbrock Torker II intake manifold and a Holley 650 carb.

Eventually I am going to get a cowl induct hood. Right now I am already having some hood clearance issues. The main hold up is that it costs about the same ammount of money to paint the hood as it does to buy it.

I'd like to sometime in the future also take the rear axle gears out and replace them with a set of Richmond Pro Gears.
---
Feel free to shoot me an e-mail with any questions, comments, and/or helpful tips. Thanks for checking my website out.

e-mail: punkskater6712@hotmail.com